This is 4 days late, but you know me, I gotta get every detail in there. And the pics were big so I spend a good amount of time resizing them. And when I say I resized them, I mean i resized them ALOT. You'll see what I mean when you look at them.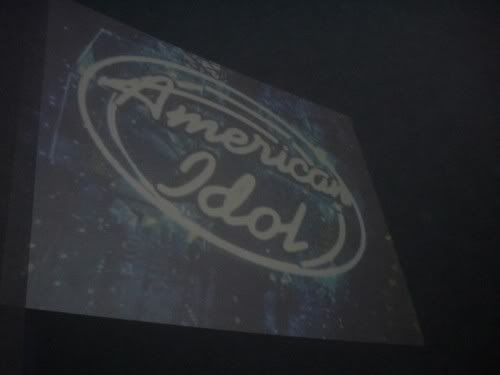 Got there about 6 pm. We found a super easy way to get there. I'm so glad cause I have to go back there on the 27th for The Used :). I had on the Con shirt I made and my mom had on Bonstantine. So 3 Betty girls stopped us and handed us a Betty bag. We got in pretty quick. Looked at the merch for a second, but didnt buy anything. Went to the restroom, some lady said she liked my shirt and wanted to know where I got it. Alot of people stared at my mom's shirt. I guess they thought she spelled Constantine wrong or mistook him for Bo or something. lol morons! We waited in our seats for about an hour before it started. We were on Row Q, but the aisle started in like the middle of the alphabet so we had pretty good seats [the pics didnt turn out good when I put them on the computer and of course pb distorts them :(] but they're pretty clear when I printed them out]. There was this one girl that just craved attention. She kept bootydancing at her seat. And she was a Constantine fan [ugh] cause she was holding a small Greek flag [more on that later.] So of course, me being the not easily embarrassed one started dancing like Axl Rose when they played "Welcome to the Jungle". I swear, they play GNR at every concert at go to and I dance everytime haha. I got so tired of seeing the showstoppers commercial though. I would scream for Bonstantine and quickly shut up when Farmbot came on screen. Didnt want anyone to think I was cheering for her! And someone must have been against me that night cause there were Farmbot fans on the left, right, front AND back of me. UGH. Vonzell's dad was there. You could spot him from halfway across the room of course! People kept going up to him getting autographs and pictures lol.

But anywho, on to the show. I took at least one pic of each on the stage and one of each on the screen [these are kinda blurry]. My mom asked if I was gonna take any pics of Carrie. I said no. And I didnt.
Jessica was first. You all know that I hated her on the show. But honestly, she is the best female vocalist. I love her singing voice and I love her speaking voice even more. She really really impressed me. And its true what everyone says, she's tiny in person.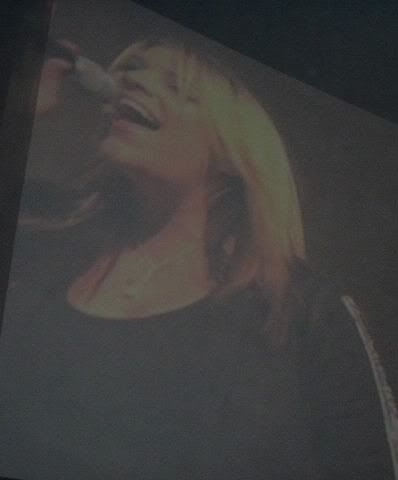 Next was Anwar. *YAWN* Really nothing else to say.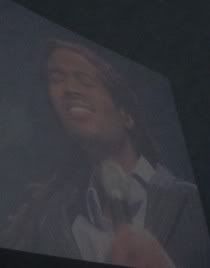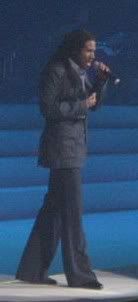 NEXT WAS CONSTANTINE!! EVERYONE stood up for him. The place came alive when he came out. Yay! He's so beautiful in person. He did great as usual. And he did a little striptease with his red jacket haha and the girls went crazy. And of course, he held his hair back like he always did on the show. *sigh* He kinda messed up on "My Funny Valentine" but nobody seemed to care. And he did FANTASTIC on "BoRhap". Someone threw a blue and white garter at him and he said "my mother wouldnt approve of this!" haha. I held up the metal sign so much that the little girl beside me was doing it lol. He got a towel and wiped his face and chest sweat on it and threw it out in the audience.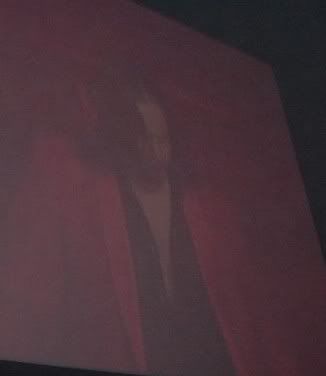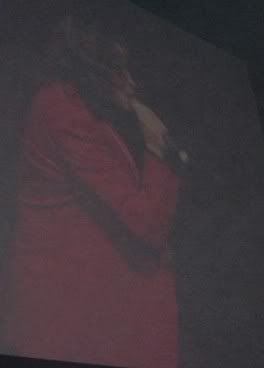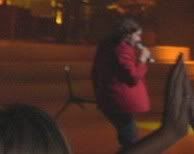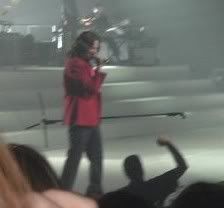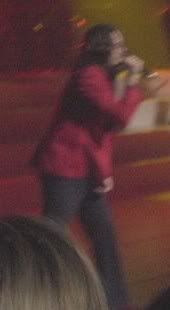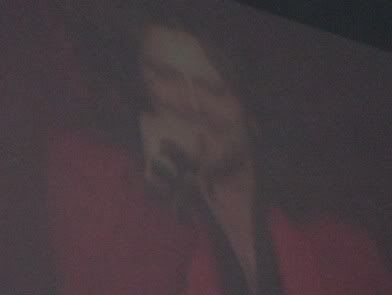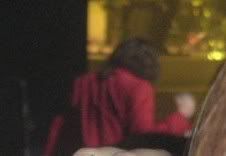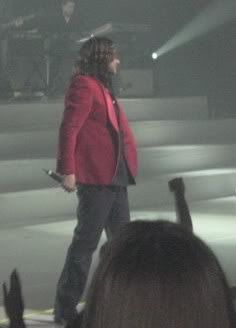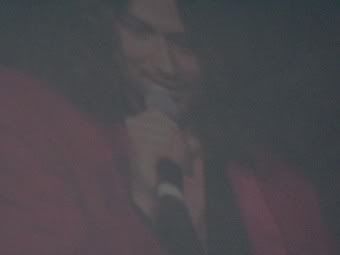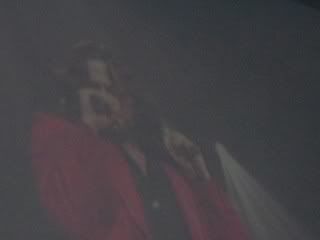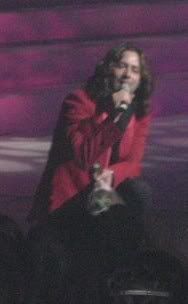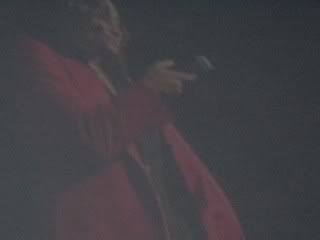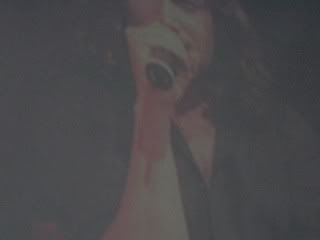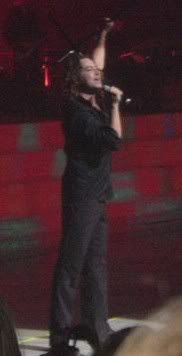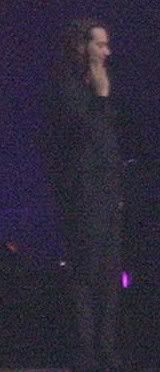 Next was Nikko. He's pretty entertaining and a darn good dancer. Its not easy to pull off Justin Timberlake. And while he's not AS good as Justin, he did him justice. Besides, I ADORE that song anyway.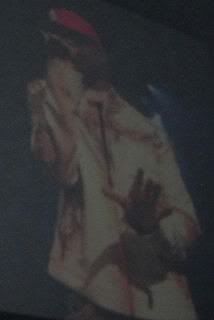 Next was Scott. The crowd welcomed him pretty well. And I stood up during "Against all Odds" cause I absolutely love that song and he sings it really well.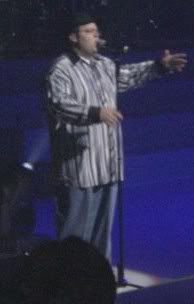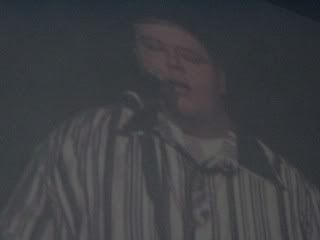 Then Jessica came out and they sang "Total Eclipse of the Heart". I love how she sings that song. They did really good.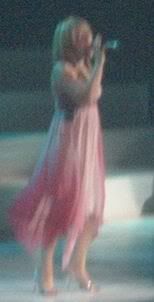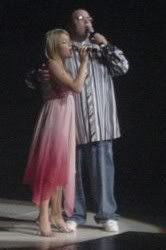 Next was Nadia. She strutted out on stage with a guitar and thought she was hot snot. And let me tell you, she's nasty. Not kid appropriate at all. *gags* And I cant stand to watch her sing either. The only thing I liked was the stars on her jacket, that was it.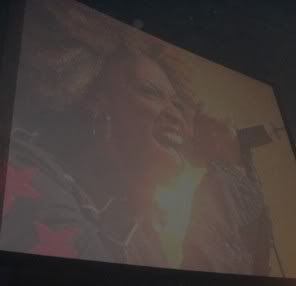 Then Anwar came back out playing the keyboard. He did decent on the Stevie Wonder song, but I still dont like him. I said Vonzell was gonna come out by the keyboard and my mom said "is she gonna sit down at it?" and I said "she already is" [referring to Anwar lol].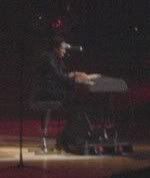 Vonzell was ok. Not as bubbly as she was on the show. So I was dissapointed. This is so weird to me. This pic of Vonzell turned out pretty good, but when I put it on here, it looks like crap.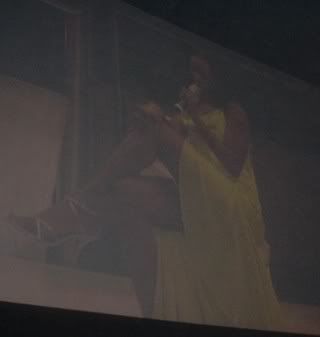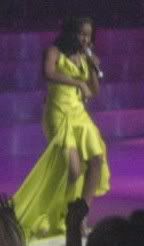 Next was ANTHONY! He is so so adorable and he really does have a great voice. Of course I giggled during "Every Time you go Away". You'd just have to know how I sang that when I was little to get why I laughed. And he did this little foot shuffle/hips swiveling thing. It was so cute!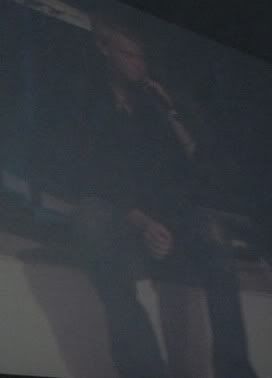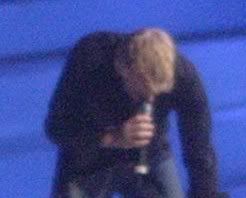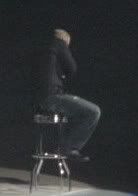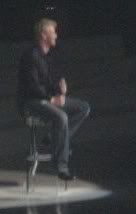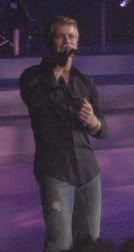 [these last 2 turned out really good when I printed them out]
NEXT WAS BO! When he hobbled out there with his cane [poor thing!], everyone stood up and cheered. He sat down at the keyboard to play "Desperado". He said "Scott and I were breakdancing and Scott fell on my foot and broke my toe". hehe. Bo has such an amazing voice. The crowd went crazy when he sang "Vehicle". You could tell he wanted to move around SO bad. He kicked his leg up too high and almost fell backward. Everyone held their breath. After that song, the lights got all trippy for "Voodoo Child". I dont like that song, nor do I like Jimi Hendrix at all, but Bo ROCKED on that guitar. After that, he said "every night I get to bring a little piece of home to the stage" and sang "Sweet Home Alabama". I was so upset. Every single person in there should have known every word to that song, but most people only knew the chorus. Its a classic song for crying out loud. I felt ashamed.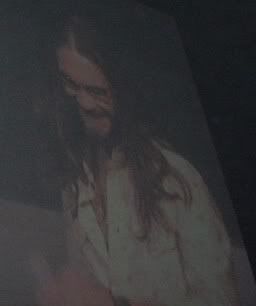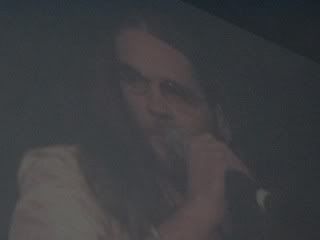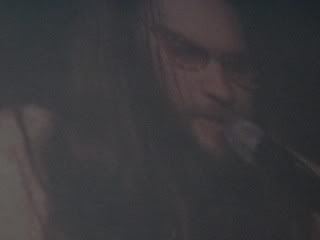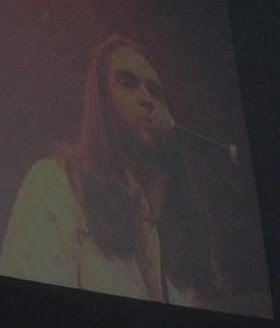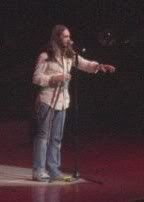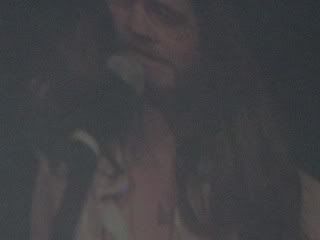 He carried the mic! Yay!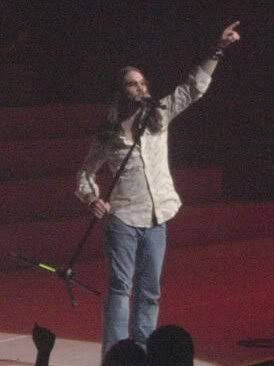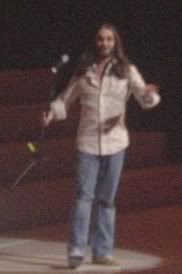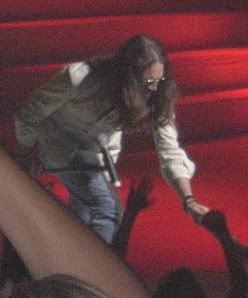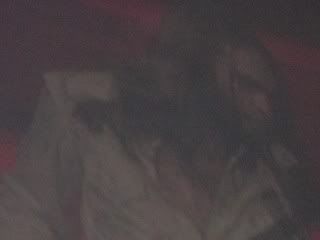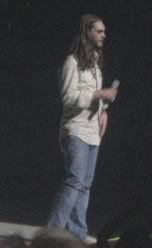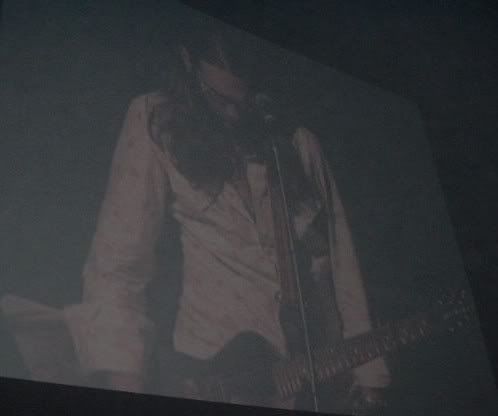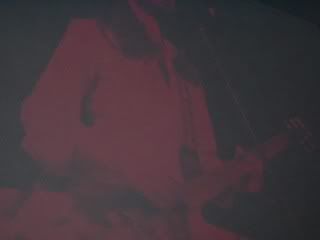 [this was during "Voodoo Child" see the trippy colors]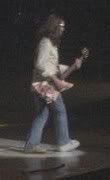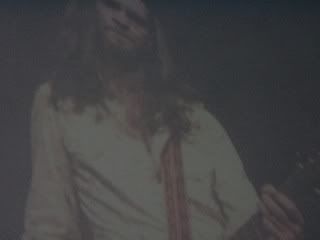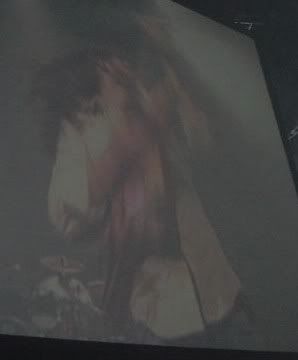 He introduced Farmbot and I sat down immediately. I didnt stand up, clap, or even move once. And thats not me, I dont ever sit still. I almost puked when she said "yeah I said mattress dancing" during "Sin Wagon". When she started singing "Alone", I got up and literally sprinted up the stairs to get outta there. I could still hear her, so I covered my ears. But dang it, it was even louder in the bathroom. grrrrr. The only pics I got of her were during "Inside your Heaven" when they all came out and thats only cause I was trying to get ABC in the pic.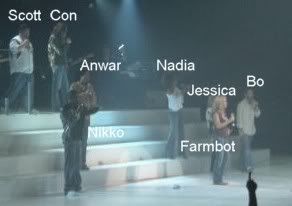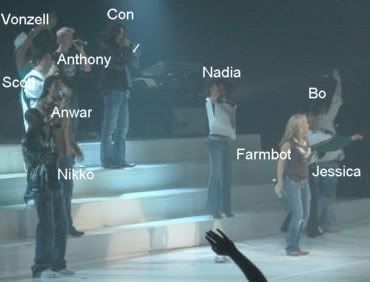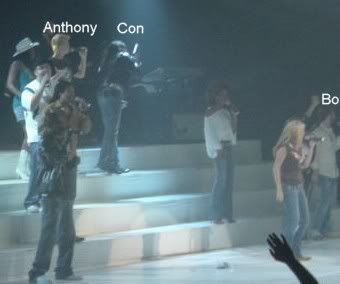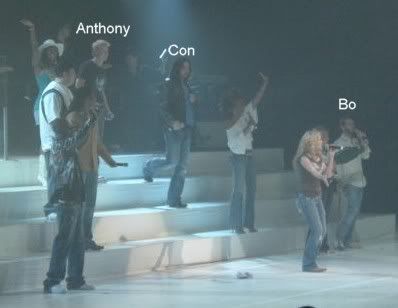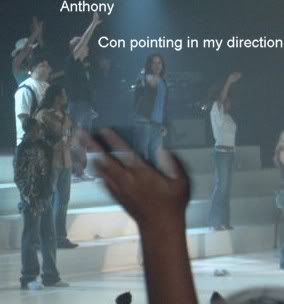 This was the highlight of my night. Matt hates AI so he drove us there and sat in the car. These 2 girls came up to him and said "omg are you Constantine?!" I almost died laughing when he told me that. haha silly girls!




Jessica was the first one to come out. She was a sweetheart and spent a lot of time out there. I talked to her about the belt someone gave her. The belt buckle was the metal sign. I LOVED it. I asked for a pic with her, but people kept calling her name, so this was the best I could do.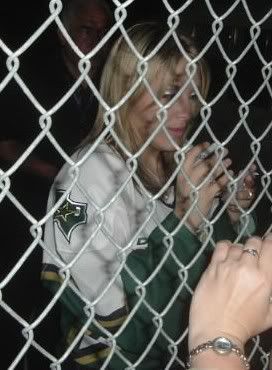 Anthony came out next. He was a doll. He was taking time with the fans too and I kept screaming "come here cutie pie!" lol. . I wanted him to sign something [he didnt], but I asked if I could somehow get a pic with him through the gate. Someone called his name and diverted his attention for a minute, but he came back to me to get the pic. He said "I'm gonna look like I'm in jail!" i think my camera blinded him, cause his eyes are huge in the pic. haha. and I blurred myself out for your protection. Its horrible!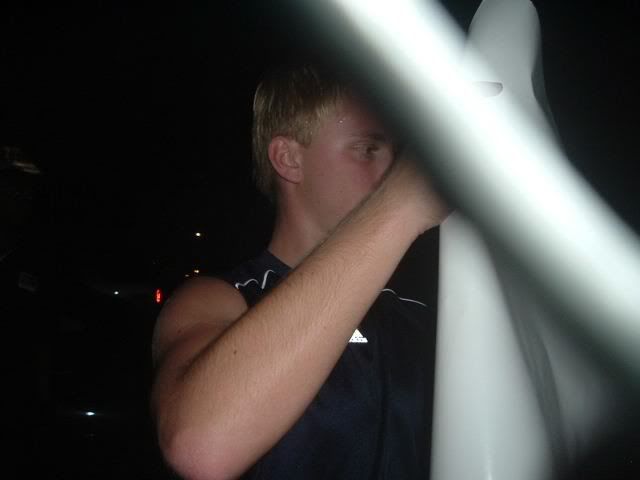 Scott was next. Everyone was excited to see him and he was really nice. Someone asked him when he was going back to Ohio and he said "not soon enough". I just got his initials. I took a pic of him standing my Anthony though, but you cant see him in it.
Bo came out to say hi to us. He walked along the fence and smiled and waved and said "I love yall". My pic didn't turn out too good on the computer, but you can tell its him in the real pic. He really wanted to meet us all, but they escorted him back to the bus and he reluctantly walked off, smiling and waving and blowing kisses.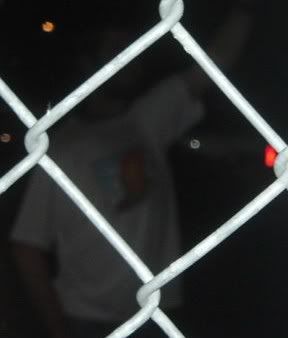 Everyone was chanting for Constantine. Even the little girls. When he came out and we were screaming for him, he made a face and started headbanging. It was so cute. Some would say I actually met him. others wouldnt. II mean he was right in front of me. He had his hand on the gate and I coulda touched him [I soooo wanted to put my hand on his, but I didn't] and I kept calling his name so I could give him the bear I made him, but he wouldnt look up. I said "Betty Rocks" and he mumbled "thanks". Everytime someone said something about them, he would ignore them. And my mom and I had Betty cards for him to sign and he just walked past us and ignored us. Everyone was screaming his name and he kept his head down the whole time. Everyone kept saying "I love you Constantine" and he said it back about 3x but that was it. We hardly saw his eyes at all. I kept asking for a picture and yelling at him to take the bear and he wouldnt come back down there. Some people got mad cause he only signed a "C". Really the only one Con paid attention to was the girl who gave him a Greek flag [yes that would be the booty dancer girl]. He tried to climb the fence to get to her. It was annoying, but it made for a cute pic. He did talk to this one little girl though and called her "mamasita". I forgave him after a little while when my mom threw him the bear, at the last second. He picked it up, smiled real big and hugged it tight. And he was still hugging it with both arms when he got on the bus. I got alot of pics though, 4 of them with the bear. So even though he wouldnt look up when I was screaming his name, at least he loved my bear. I'm glad he liked it, but the sad thing is, he dont know who gave it to him. But at least he came out. Their manager said that Carrie and Nikko would NOT come out. And Vonzell kept coming outside and everyone was calling for her, but she wouldnt look up, smile, wave or anything. Anwar came out once and looked at us and Nadia didnt come out at all. So at least Con was nice enough to come out for a few minutes. Although I heard that if we had waited a few more minutes, we coulda met Carrie. *oh snap*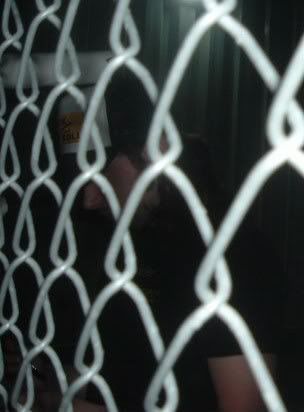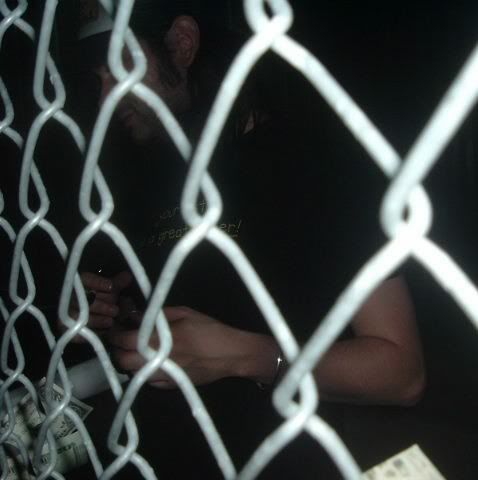 This is my fave:
Climbing the fence [it cut is head off when I printed it out :(]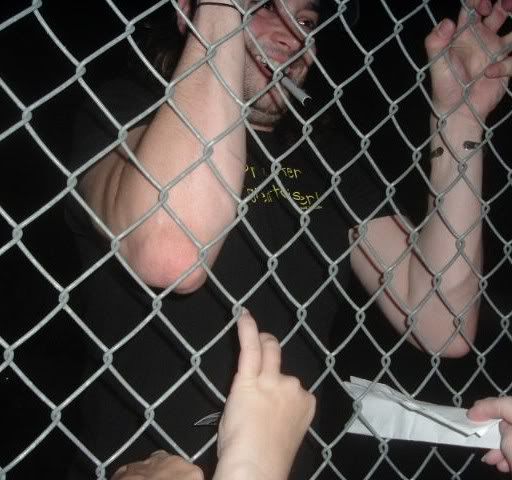 Me trying to hand him the bear: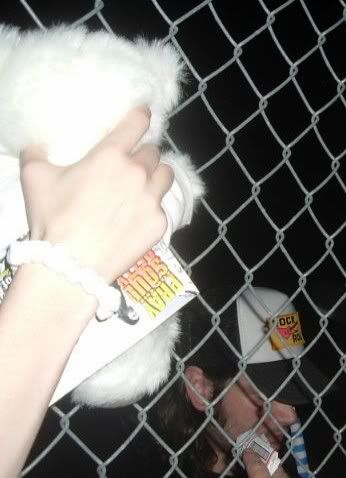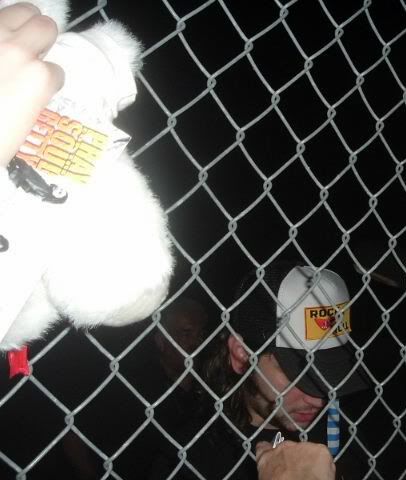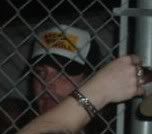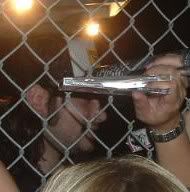 Him with my bear. Looks like he's asking who gave it to him.
Hugging the bear :).
Still hugging the bear :).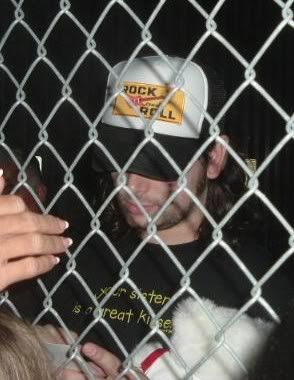 And still hugging it :).